One of the most important areas of our home is the garden with its' significant accessory, the fence itself. Either a street section or backyard, creation of a fence to protect of our property, preservation of our privacy, that fits the design of our house at the same time is not an easy job to do.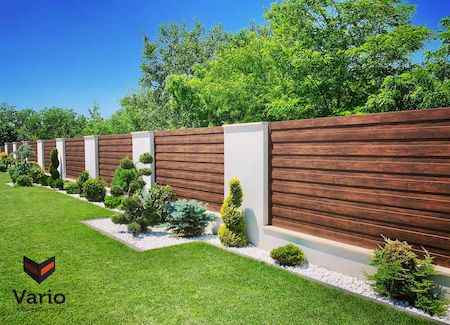 In Hungary, as well as in several European countries, wooden fence boards have spread over the centuries, and their maintenance and repainting have become not just expensive but time-consuming and last but not least polluting due to the usage of various chemicals. With development of technology, in addition to design, sustainability and the use of care-free, timeless raw materials have become very important.
Since the establishment of our company in 2007, we have made fences, railings and partitions for thousands of homes from steel and aluminum. Thanks to the precise, reliable and high-quality production and execution, and the satisfaction of our customers, we have now become one of the market leader manufacturers of aluminum and steel fencing in Hungary. In addition to the Hungarian market, we already sell our products in Austria, Slovakia and Romania as well.
Our company is a 100% Hungarian owned family business with decades of experience in manufacturing. Due to increasing popularity, our company is growing above the market average year by year. Currently we serve our customers with 22 production colleagues, 3 installation teams and 4 customer service staff.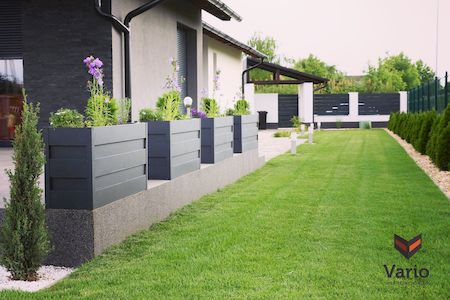 Custom-made sintered profiles in different widths (80mm, 100mm, 110mm, 160mm or oblique lamella elements), a wide range of colors (any RAL color and 25 wood colors) and the variability and arrangement of the elements allow everyone to find the fence that best fits your home, or lets you create your own fence design. Either a modern, minimalist house, with the dominance of anthracite color, or a Mediterranean style building with natural wood elements, horizontal or vertical, gaped or closed, we are able to create all your ideas. Prior to production, the exact production dimensions are taken during an on-site survey, and the elements are manufactured and assembled according to these sizes. Ready made products are professionally installed by our experts with many years of experience throughout the country.
The range of our own products has been expanded with outdoor steel flower boxes, wall coverings, as well as the popular aluminum waste bins and outdoor storage boxes (Vario Box) in recent years. Our products can be seen at our resellers in 21 sites of the country, and you are also welcome in our own showroom.
We regularly participate in all prestigious construction trade fairs in Hungary and the surrounding countries every year. You can meet us at the Garden Expo in Budapest, at Construma and OtthonDesign, at the Bauen & Wohnen exhibition in Vienna and Salzburg, and at the Nábytok Bývanie exhibition in Nitra.
Feel free to contact us for more information, our customer service and colleagues are at your disposal!